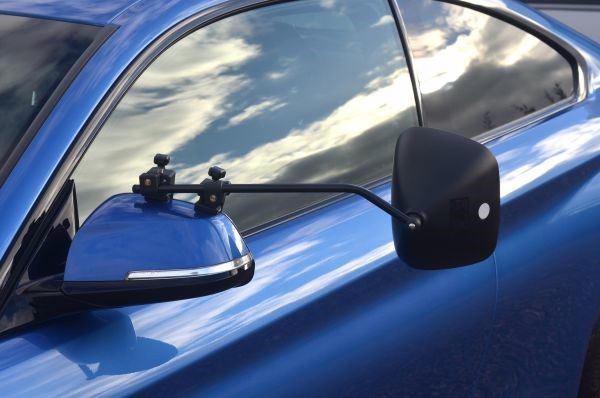 Caravan towing mirrors are one of the most important tools to have when it comes to caravanning.
The ability to see what is around you and your vehicle at all times is a key factor to staying safe on the road, and, while towing your caravan, your car mirrors alone are often not sufficient to give you the vision you need.
With the right caravan towing mirrors installed, you have more confidence and peace of mind when out on your road adventure. Not to mention that towing mirrors are required by law in Australia when towing objects that are wider than your car, such as a caravan.
Which towing mirrors to go for?
There are different types of caravan towing mirrors available, to suit different budgets, requirements and setup needs. You should look for mirrors with an aerodynamic design that will provide more stable vision and tend to stay in place better when vehicles pass in the opposite direction. Also look for mirrors that are easy to fit and remove.
Some mirrors come in flat and convex glass. Convex mirrors give a wider view of your surroundings, but the trade-off is distorted depth of vision. Flat mirrors on the other hand give a more accurate depth but less viewing angle. There is no right or wrong type, but personal preference. Ask to have a look at both types when you are buying mirrors to decide what best suits you.
Generally, the common types of towing mirrors are:
Mirror mounted towing mirrors
Mirror mounted towing mirrors are the most common and popular towing mirrors, as these only need to be clamped or strapped onto your car's existing side mirrors. The installation process is quick and easy, and they can be adjusted from inside your vehicle. Some mirror mounted towing mirrors come with support arms that attach to your car door for that extra resistance.
Door mounted towing mirrors
For those who prefer something a bit more stable than the clip-on or mirror mounted types, the door mounted towing mirrors is a good option. Having said that, these mirrors are usually more expensive, and installation is a little harder. Door mounted mirrors are also bulkier than mirror mounted ones, and are more suited for larger vehicles.
Bonnet mounted towing mirrors
Due to the improved design and stability of the mirror and door mounted mirrors, the bonnet mounted towing mirrors are no longer as popular today. These mirrors are attached to your car by a drawbar that runs across the hood or bonnet of your vehicle, and can be very difficult to install. They also cannot be reached from the driver's seat, so it can be inconvenient to adjust your view.
Clear view towing mirrors
If you practically live in your caravan, or if you spend most of the time towing, then you may prefer clear view towing mirrors. These larger dual mirrors are a permanent replacement for your car's existing mirrors, and can be extended as needed. These clear view mirrors can also be adjusted electronically from inside your vehicle. The downside is, they are very expensive.
Some tips for installing towing mirrors
Follow the manufacturer's instructions when installing your towing mirrors
For permanent towing mirrors, you may want to go for professional installation
Make sure the installation is secure so that the mirrors will not detach when you are driving at high speeds
Ensure that you have a good view of your surroundings when you look in those mirrors from the driver's seat
Hook up your caravan and check your visibility again
You may want to practice driving and reversing your caravan with the towing mirrors, before your actual trip
When you are not towing
It is important to note that the law in Australia also requires you to remove the extension mirrors when not towing. When the caravan is detached, towing mirrors are not compliant because they are too wide for normal vehicles.
The best caravan towing mirrors in Australia?
As with most car accessories, it is hard to decide on the best towing mirrors, simply because what works for one person may not work for another. It also depends on what features you are looking for, how much you are willing to spend, how often you use them, and other requirements.
To help you choose one that suits you, here are some of the towing mirrors we offer that we think are pretty good: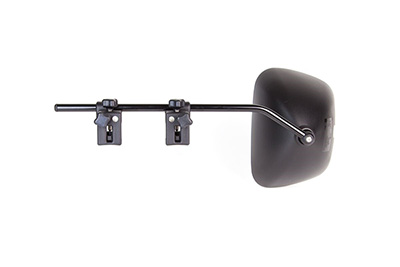 The Milenco Grand Aero Towing Mirror is an award-winning product that offers the maximum view possible along with great stability. Manufactured with high quality materials including stainless steel clamping screws and turn in brass inserts, the Grand Aero Towing Mirror has the largest head of any other caravan towing mirror. It also has a unique air balanced design to reduce and stop vibration. It is suited for all cars as well as 4x4s.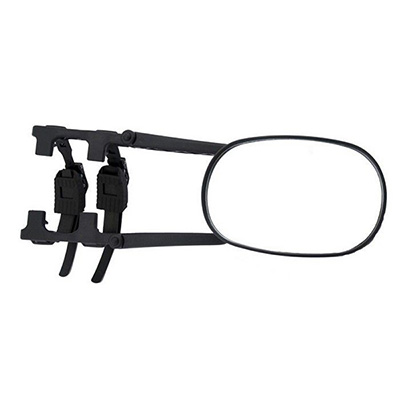 The Reich Handy Mirror XL Extended features a ratchet system which controls the length of the straps. This ensures maximum tightening security onto the existing vehicle mirrors, giving you a vibration-free towing experience. It also has extended arms, making it a suitable option to tow wider and longer caravan.
To find out more about our caravan towing mirrors, or if you need help in choosing the right one for your vehicle, get in touch with Page Bros RV today.