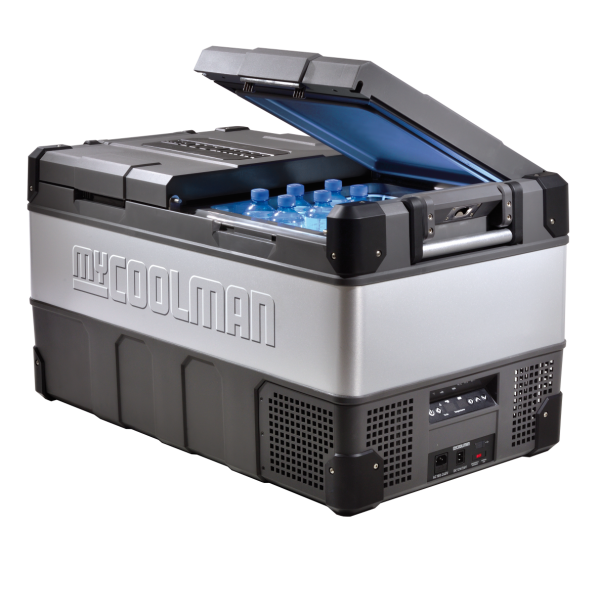 There is nothing better than relaxing with a cold one after a long trip to get to your favourite holiday destination, or at a stop-over somewhere along the way.
A Portable fridge is a great way to keep your food & drink cold while traveling, allowing you to have them on hand when you need them.
So what do you look for when buying a portable fridge?
There are several factors to take into consideration, and a lot of choices in both size, construction and brands.
We have put together some tips and tricks to help you decide what portable fridge/freezer would suit you!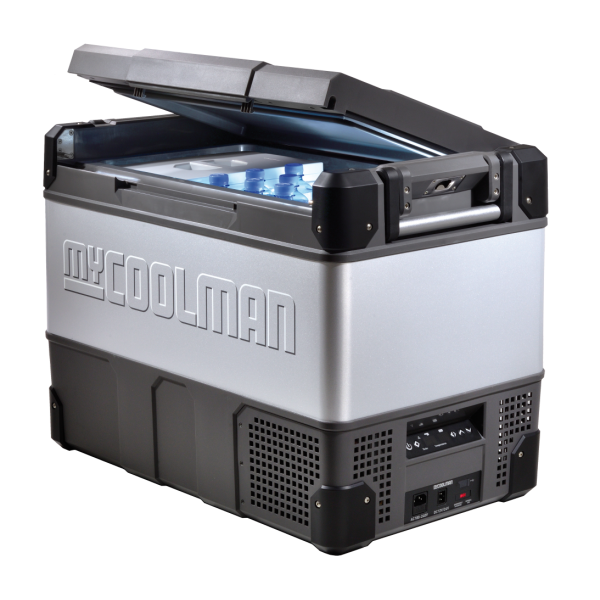 Decide what you plan to use the fridge for.
Keep food and drinks cold
Keep food fresh or frozen
Both! Keep drinks cold and the food frozen
How much room do you have?
Capacity - Fridges come in many different sizes, for example, the myCoolman range has seven models ranging from 36 to 105 litres to suit your needs.
Space - Always allow for room around the fridge when it is in use, especially when packed in your vehicle, to allow the compressor adequate cooling, (always refer to the instruction booklet for clearance)
Convenience/Features
Technology and features in the humble portable fridge/ freezer have come a long way since the old esky! When comparing models, there are many features that can make your outdoor adventures and set up easier and more convenient.
Handles - Do the handles fold flat to the body of the fridge so they are out of the way.
Power - Power inputs on both ends allowing for more versatility of where you use/store the fridge
Digital Controls - Digital display so you can keep an eye on the condition of what is in the fridge
Smart Phone App - Bluetooth connectivity so you can control your fridge with your smartphone
Bottle Opener - Bottle opener fitted, we all know that finding a bottle opener is sometimes easier said than done (that's if you remembered to pack it!)
Internal Light - LED light for automatic cabinet lighting.
Cleaning - Removable baskets & a smooth inside makes cleaning much easier.
Two-way opening lid - makes it easy to get access no matter which way it is facing or where you have it.
Dual Zones - A Dual Zone fridge/freezer, are there separate compartments/lids & controls for the two zones?
USB ports - USB charge port for your phone, music or other devices is super handy! (you may have used one of your 12v outlets for the fridge!)
Turbo setting - A Turbo setting is very useful for rapid cooling.
Insulated Cover - Does the fridge come with a cover or is it an additional cost? An insulated cover can not only reduce running costs but can also protect the fridge from the weather, dirt, knocks, and bumps.
LASTLY! How many cans can it hold? (important information!)
Construction
Is metal better than plastic? Metal will heat up faster in hot conditions than plastic and show knocks and dings where plastic will take more of a pounding and still look good.
How strong does it look? If it looks flimsy it probably is. Can you stand on it? Try it out. I bet sooner or later it will be used as a step.
Insulation
A fridge with thin walls may be smaller & lighter but almost certainly the compromise is with the insulation. Generally, thicker-walled fridges offer better insulation. The better the insulation the cooler your contents will stay for less power consumption.
Power Sources/Consumption
An overlooked factor when buying a portable fridge freezer is what available power do you have to run your fridge? Most fridges operate on 12 volts and 240 volts, with some also operating on 24 volts. A quick tip is to check that the fridge you are looking to purchase has at least two power sources, and comes with the leads to suit. This way you are less likely to get caught out with no power to the fridge.
Of course, the bigger the fridge the higher the power consumption. With Dual Zone fridge/freezers the power draw is almost always higher, something to be considered when deciding what model to buy. Another tip to save on power consumption is to make sure the model you decide to purchase has a variable speed compressor, as most do not! A variable-speed compressor will use less power.
If you intend to run the fridge mainly on battery it is a good idea to choose a model with in-built battery protection. This will shut the fridge down when the battery voltage drops too low avoiding damage to your expensive battery.
Power Consumption Tips
Remember power is only being used when the compressor in the fridge is running.
Power consumption can be reduced in a number of ways:
Keep the fridge/freezer as fully stocked as possible, less cold air escapes when the lid is opened making less work for the compressor to keep the contents cold
Keep the fridge in a cool spot - don't leave it sitting in the sun or in a hot car, park in the shade where possible
Open the fridge as little as possible
Use a cover to keep the fridge insulated
Use the storage basket where provided, this will allow the circulation of cold air around your goods. All fridges will show power consumption on their data plate, but the important thing is to compare apples with apples.
When comparing fridges always look for the power draw (in amps or amp hours A/H) remember this can vary depending on the ambient temperature & how long the compressor is running for.
As an example, the myCOOLMAN CCP44 (44L Fridge Freezer) keeping the fridge at 5c with ambient at 32c will draw 0.8A/H
At the other end of the scale, a CCP96 (96L Dual Zone Fridge/Freezer) 5c and -15c respectively at 32c ambient will draw 3.1A/H
Lastly, to ensure your fridge freezer is running most efficiently, it is important to have the correct wiring/fuse and accessory plug installed for your fridge. Always check with your auto electrician if unsure. Incorrect size wiring may be unsafe and reduce the performance of your fridge.
Warranty
A portable fridge freezer is an investment, and the warranty should reflect that. Look for a minimum of 3 years on the fridge and an additional 2 years on the compressor.
Also, check if the manufacturer offers a Nationwide warranty or do you have to get it back to the place of purchase. Quite inconvenient if you are miles away!
Also, keep in mind the availability of spare parts. These should be available from an Australia wide dealer network.
Selecting a fridge to suit your needs from a reputable manufacturer like myCOOLMAN, Waeco, Engel etc will see you enjoy many years of trouble-free operation.
There are a lot of options available when looking to buy a portable fridge/freezer.
We hope that the information above gives you some information to assist in choosing a fridge/freezer that will keep things cool on your adventures.