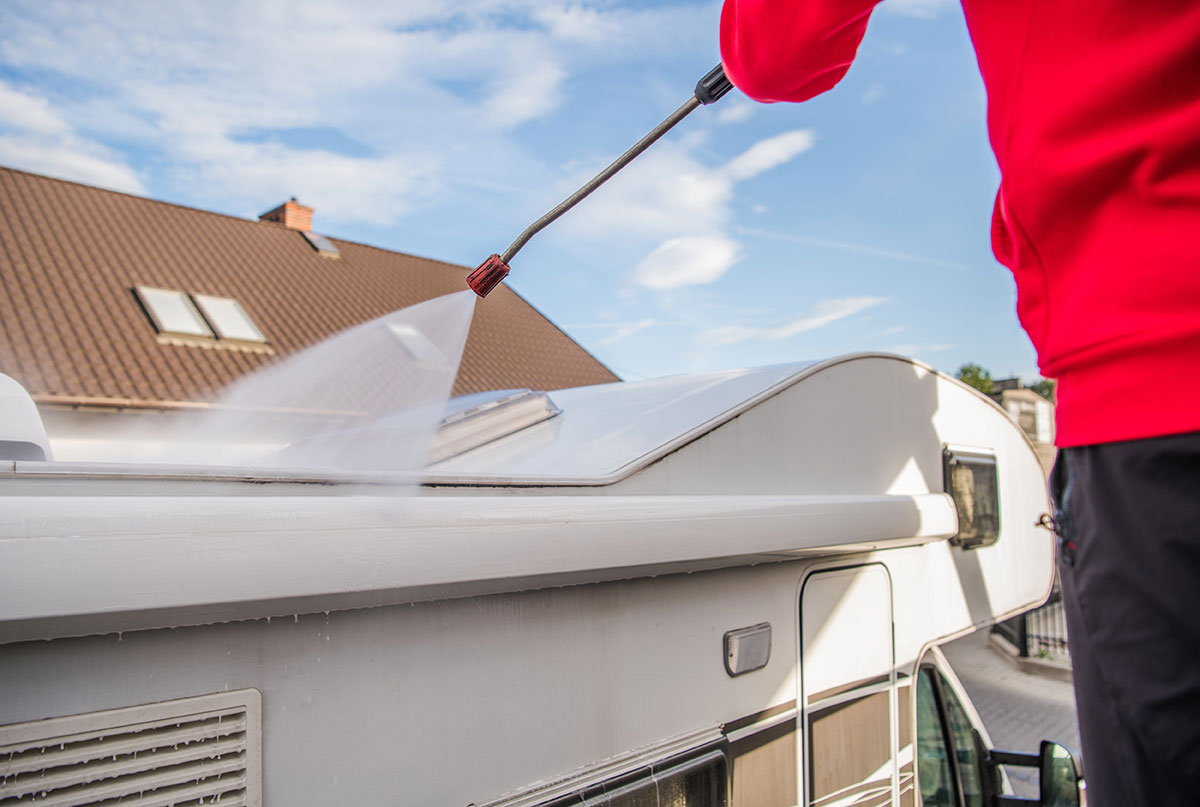 Owning a Jayco RV, be it a Camper, Pop Top, Caravan or Motorhome requires care and maintenance. This RV Know How will introduce you to some products to help you keep your RV looking like new.
Regular washing and periodically applying a premium polish and wax is required to ensure the exterior looks like new for many years to come.
Not all washes, waxes and polishes are created equal. Car washes are designed for car washing, and generally they are good at it. The exterior of your RV requires the use of cleaning products specifically formulated for the fibreglass gel coat finish.
Meguiar's range of RV/Marine washes, polishes and waxes are specifically formulated to maintain or restore the original lustre of your RV.
There are 3 steps to exterior maintenance - wash, polish, wax.
Wash – will remove dirt contaminants from the surface
Polish – will rejuvenate the finish.
Wax – will protect the surface
We recommend that you wash the exterior at least monthly using Meguiar's Soft Wash to wash away dirt, grime, bird droppings and more. It is pH balanced unlike some other washes and is safe even when used frequently. It will clean the surface without stripping any wax protection you may have painstakingly applied.
To achieve the best possible level of protection for your RV and to maintain the nice glossy shine we recommend using Meguiar's High Gloss Polish. A polish will restore valuable oils to feed and nourish the gel coat and fibreglass surface, These oils are what gives the gel coat its brilliant high gloss look.
If the surface is a bit chalky or dull, maybe neglected by a previous owner, there are Meguiar's products to help restore the surface to its former glory:
While a shiny and well protected caravan or RV does not come without some 'elbow grease', having the shiniest RV in the park gives you a sense of pride, as well as protecting your RV from Australia's harsh condition. A good quality cover like the Camco branded covers are also a great way to protect your investment.
When the exterior surface is well maintained, keeping it clean is a breeze, takes a fraction of the time, and uses less product. It will be easier to remove bugs, tar, bird droppings and road grime.
It is a good idea to try and park or store your RV away from areas where tree sap and bird droppings will get on it.
All washing, polishing, waxing should be done in the shade when the surface is cool to the touch. Always read the label carefully on any product you use and follow the directions.