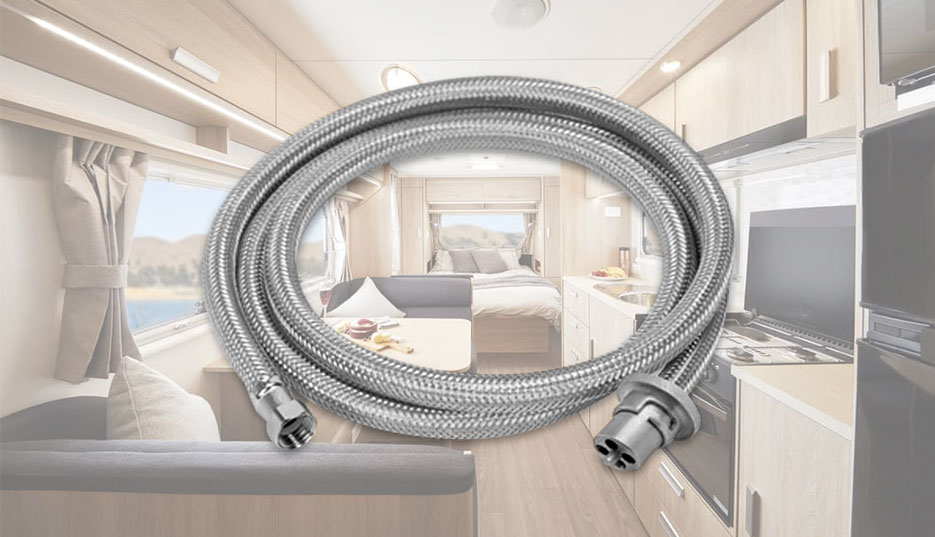 A Gas Bayonet is an outlet that is used to supply LPG to many appliances without the inconvenience of having to carry an additional gas bottle. It will automatically shut off when the hose is removed.
The bayonet outlet is plumbed into the gas supply from your RV's existing LPG bottles and is low pressure, as the LPG passes through the regulator that is already fitted.
Appliances, such as barbeques that are connected to the bayonet must be able to operate from a regulated, or low pressure gas supply. The Weber range of barbeques are a great example of appliances that can operate from the bayonet fitting.
The easiest way to tell if your appliance is low pressure is by looking at the hose it came with. If the original hose has a regulator fitted at the bottle end of the hose, then it is probably be a low pressure appliance and is able to run off the bayonet fitting.
If the hose connects straight to the gas bottle then it is probably a high pressure appliance and will not be able to run off a bayonet fitting.
You may also find that the hole in the hose fittings is very small, pin size. This is also a good indication that the appliance is high pressure, and will not run off a bayonet fitting either.
Buy Gas Bayonets from Page Bros RV
We stock hoses that will connect your appliance to the gas bayonet fitted to your van. The most common fittings are
3/8 SAE female flare (as found on Weber barbeques) in 1.5 metre and 3 metre lengths,
1/4 Inverted flare in a 1.5 metre length.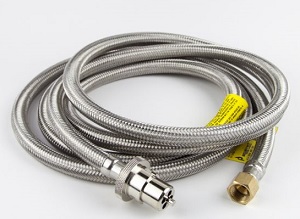 Hose Male Bayonet 3/8 FSAE Flare 3.0M To suit Weber BBQ
There are many different fittings on barbeques and we can get hoses made to order to fit the majority of them. These can be made to length, up to 3 metres which is the longest legal length.
Remember
ALL GAS FITTING MUST BE CARRIED OUT BY A LICENCED PLUMBER
ALWAYS CHECK THAT ALL CONNECTIONS ARE TIGHT AND NOT LEAKING